1. Start with a good base: Begin with a few small branches of leafy greens to build into.
2. Let it flow: Allow the shape of the branches to determine the shape of the bouquet. Organic and free flowing arrangements are so much more interesting to look at than a perfect ball of flowers.
3. Ease up: Hold the flowers loosely in your hand, and continue to rotate as you add, so the beauty can be seen from all angles. You can make adjustments as necessary.
4. Keep it simple: Everyone wants to grab all the prettiest flowers and stick them in one bouquet, but the best bouquets feature only a few knockout flowers. Use filler and greenery to accentuate and blend them.
Floral Design By:
Anastasia Stevenson "The DIY Wedding Planner"
5. Fill in the holes: View your arrangement from the top and all around, and fill in any gaps.
6.Make sure to select fresh floral, trim the ends of the stems, and change the water every few days and keep in a cool room out of direct sunlight for flowers that last.
How to Ensure Your Groom's Boutonnière Lasts the Entire Wedding Day
These bout ideas are guaranteed to be 100% wilt-free.

Photography by: Aaron Dyer
No one wants to spend tons of money on wedding flowers just to have them wilt and shrivel before the big day is done. Although your focus will certainly be on choosing a bouquet and floral centerpieces that will last throughout the ceremony and reception, you should also think about how your groom's boutonnière will fair, especially for spring and summer weddings. Before you select something lovely (but not necessarily heat tolerant), check out our tips for long-lasting boutonnières. And if you're looking for an easy DIY project, you'll appreciate our pointers for crafting these mini arrangements at home.

Photography: Thayer Allyson Gowdy
Consider dried flowers or heat-resistant blooms.
Here's a Pin-worthy boutonnière idea: Swap fresh, thirsty flowers for dried blooms or pint-size plants that need little water (like succulents or air plants). While there's certainly beauty in using fresh flowers in every aspect of your wedding, there are also perks that come with choosing dried boutonnières. For one, they can be ordered and made far in advance of your wedding (hello, DIY project heaven). Plus, they won't wilt midway through the big day, meaning there's no chance of having sad, droopy flowers visible in your photos. For the bride and groom that like to plan ahead of time (and that want to avoid any boutonnière issues mid-wedding), dried alternatives are a great pick.
Choose fragrant herbs over flowers.
For a never-fail arrangement, ask your florist to bundle a few sprigs of a single plant, like lavender, an Eryngium thistle, or wheat, together with a solid ribbon that coordinates with your wedding palette. Bonus: Her boutonnières are a great DIY project since they're so easy to assemble at home. If you still want a floral element in your groom's bout but still want a totally heat-friendly option, consider adding a preserved flower, like pink rose, to the mix.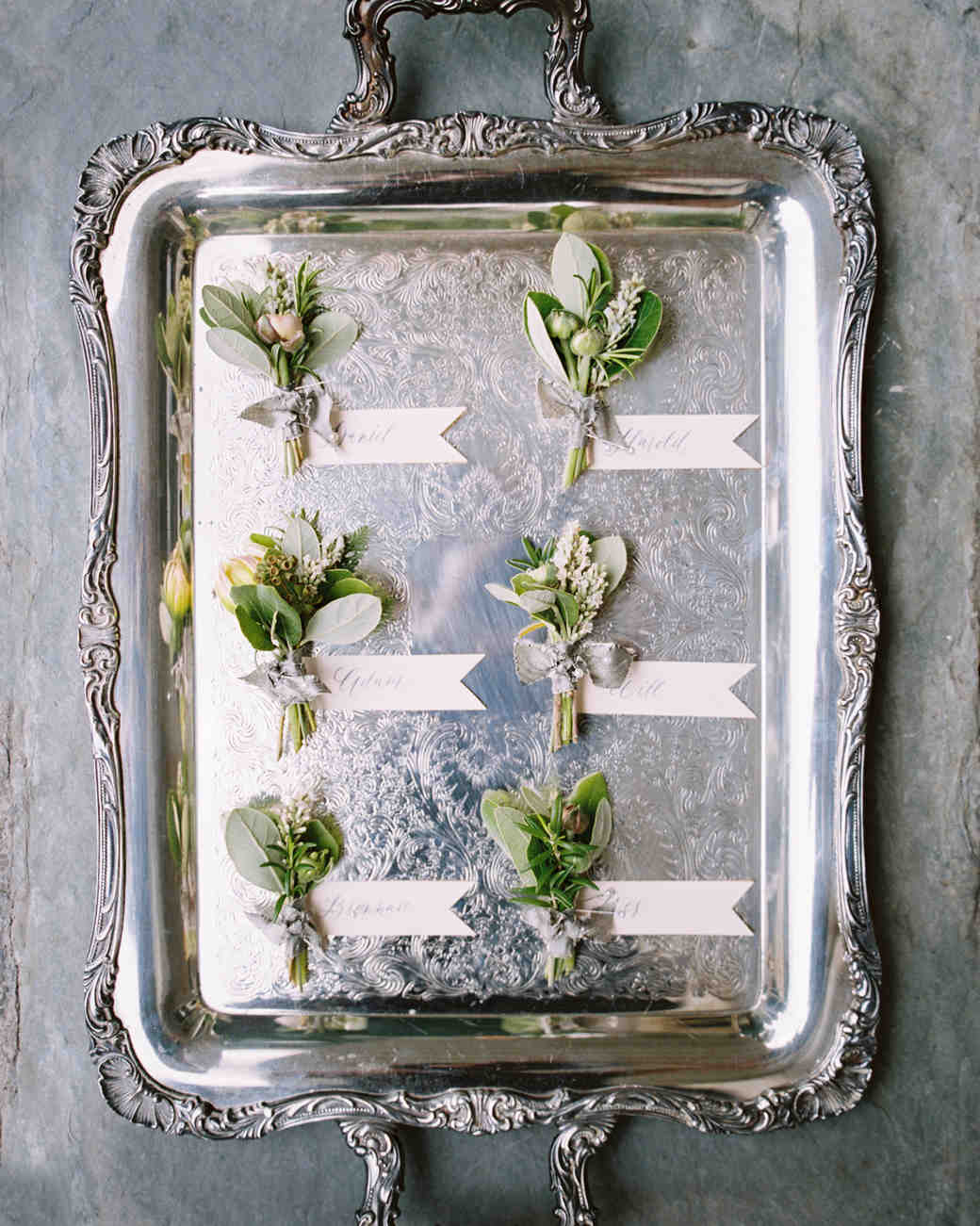 ANTIQUE SERVING TRAY DISPLAY
For a traditional and vintage wedding, using an antique silver serving tray to display the delicate bouts is a great idea.
Photography: Landon Jacob
Say "yes" to air plants and succulents.
Air plants are also a good option, especially since they make for a great wedding keepsake. Since these heat-tolerant plants don't need any soil, you can place them in a terrarium or shallow vessel post-wedding and treasure the memory forever. Or maybe you want to try something more stylish-yet-masculine, like a succulent or cacti boutonnière. Both options make for a simple yet elegant look.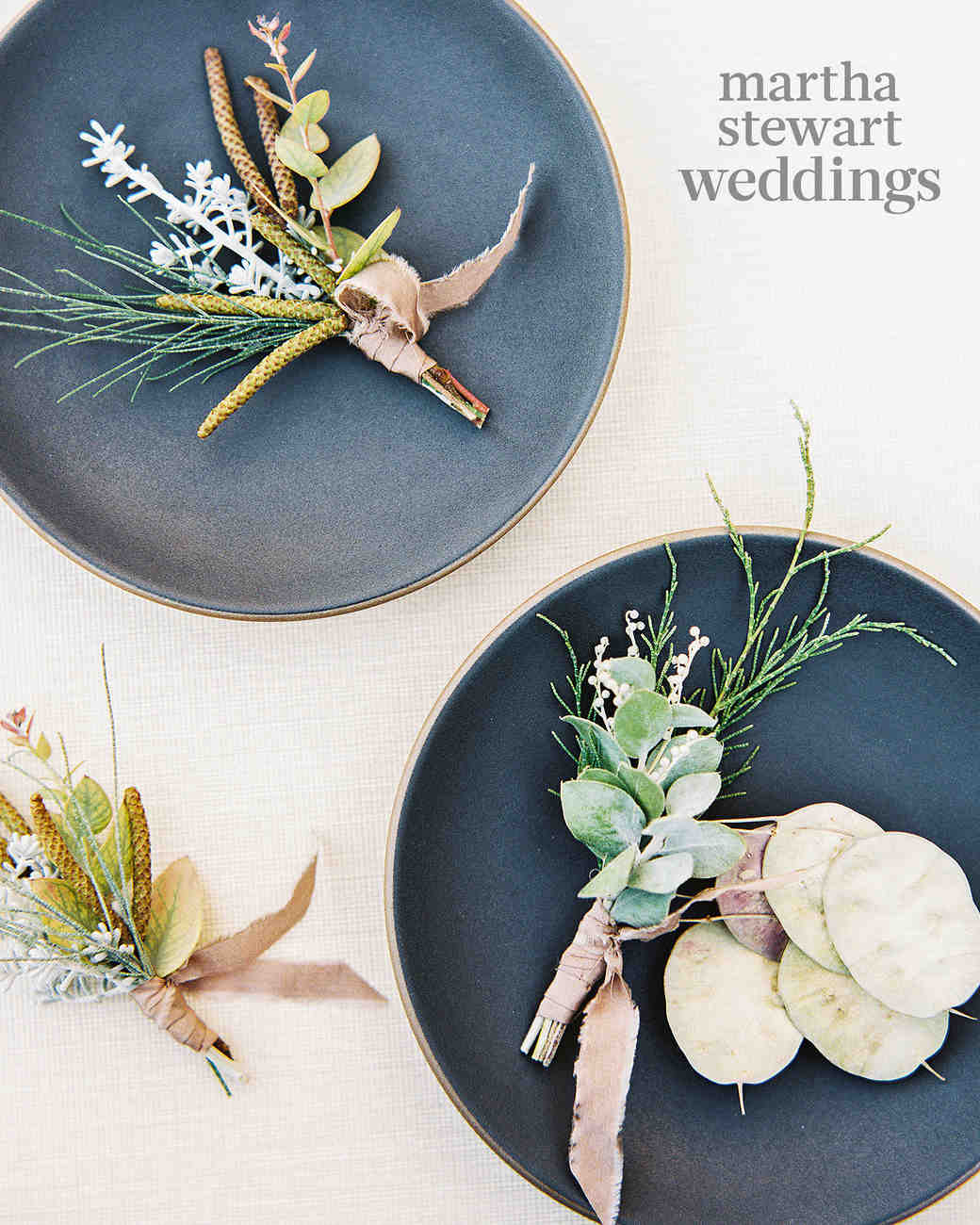 Photography: Sally Pinera
Think beyond the expected.
If you can't find a heat-tolerant flower you both love, think about unexpected materials, like hops (a fun nod to beer-loving grooms). Vendors like Black Creek Hops sell boutonnière kits, so you'll have everything you need to put it together. Want something even more out-of-the-box? Think about a bout made from your husband's favorite childhood toy (we've seen tons of Lego options).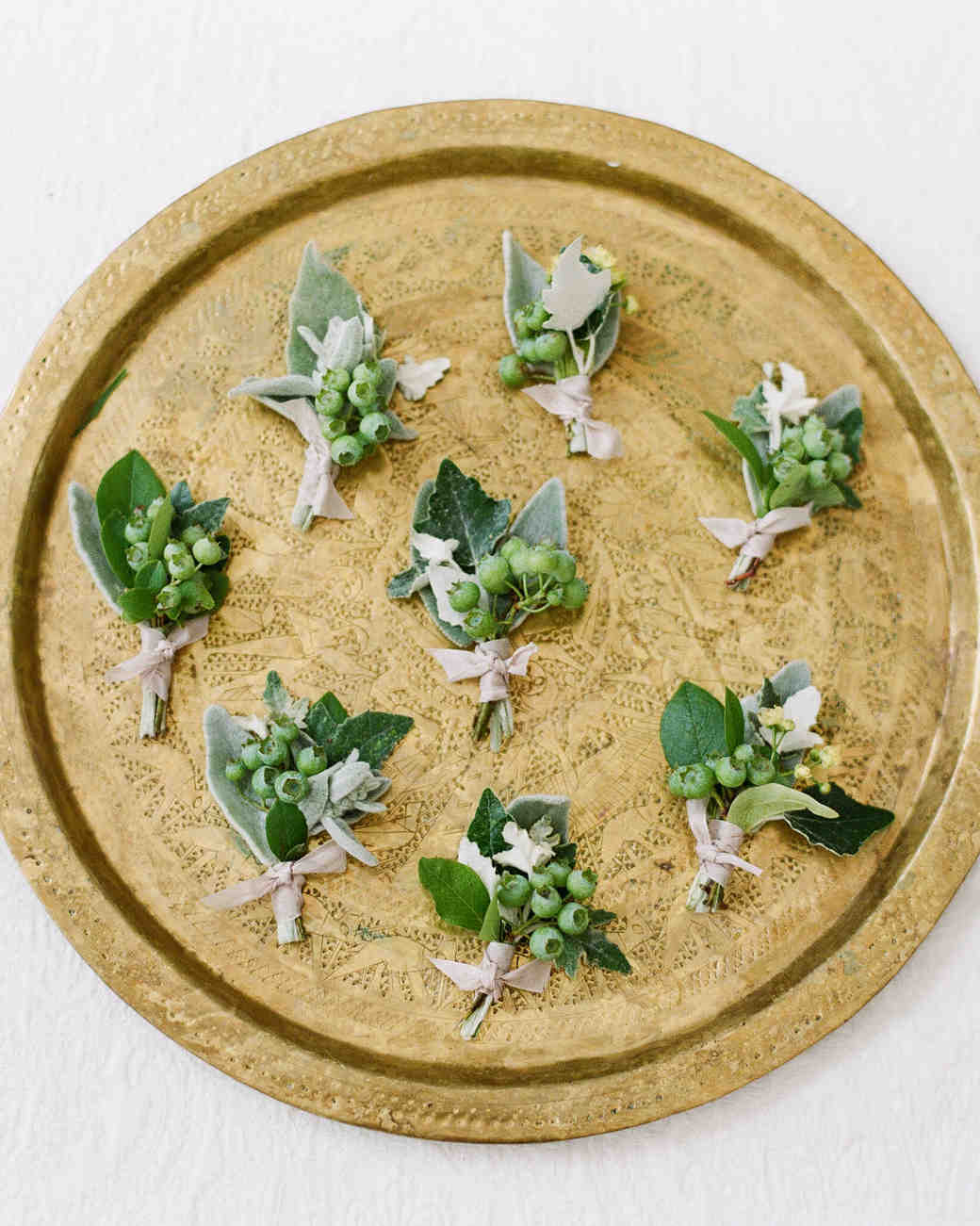 This winter wedding showed off the seasonal boutonnieres made of white poplar, young blueberry, and lamb's ear.
Floral Design By:
Anastasia Stevenson "The DIY Wedding Planner"
Wedding Flowers for Beginners
If you don't know the difference between peonies and poppies, you've come to the right place.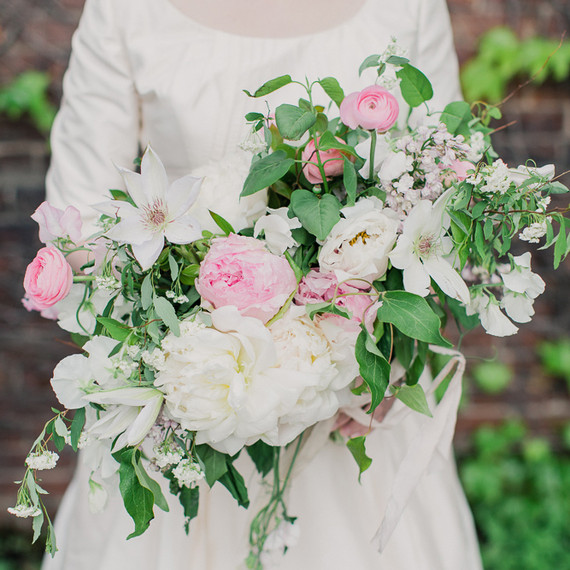 We've outlined some basic but important facts you should know about wedding bouquets and centerpieces, including how to save money and how to get the look you want—even if you don't know what that is right now!
Flowers that are in-season and local are the best choice.
That's because they're more affordable and fresher than flowers that are out of season in your area and have to be flown in from halfway around the world. So unless you're having a spring wedding, forget about tulips. An experienced florist can suggest a different flower that, while not tulip's doppelganger, will evoke the shape or feeling of it, and should make you just as happy.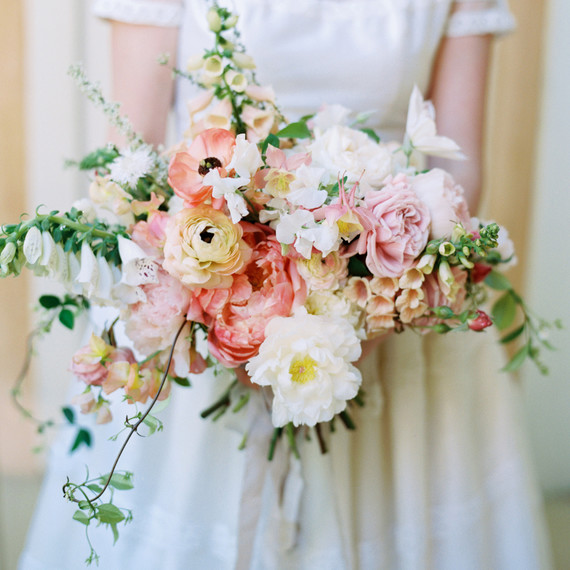 Photography by: Austin Gros
You should pick your wedding dress first, then your bouquet.
The dress' style and shape should have a big impact on what flowers you choose. They should complement what you're wearing rather than compete with it. Imagine how a sleek modern gown would look with a flowing bouquet of wildflowers. Something's off, right? Now picture that same gown with a hand-tied bouquet of calla lilies, which have more elegance and structure. Much better!
DIY can be daunting.
A year before your wedding when you've got all the time in the world, you decide you're going to do your own flowers. The reasoning: You'll save money, get the exact look you want and get to have some fun with your friends. The reality: It's the day before your wedding and, as organized as you are, there are still lots of last-minute things to take care of. Oh, and you've got 20 centerpieces to arrange. Right now. Avoid this nightmare and hire a pro for all your flower needs.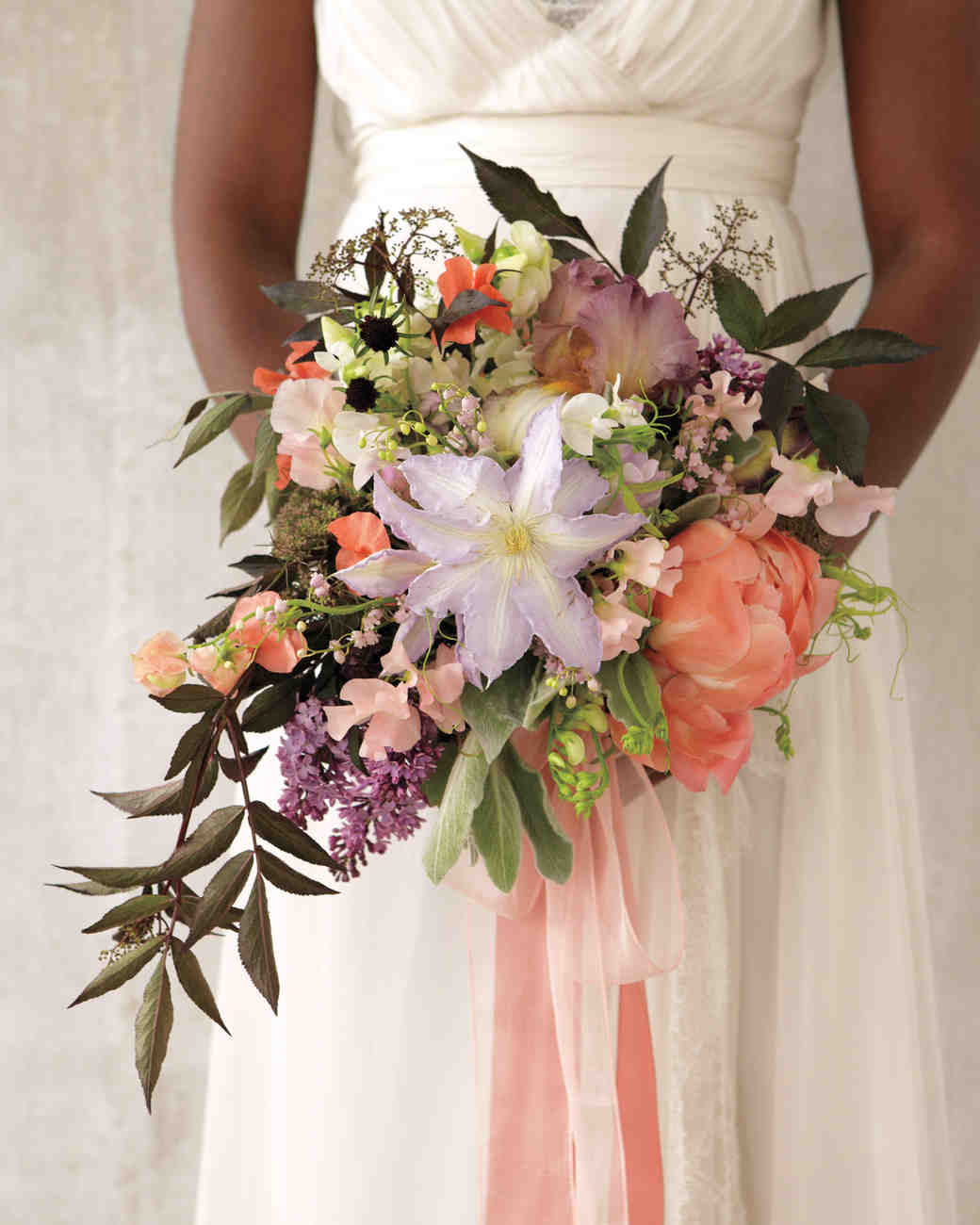 Bouquet by Saipua
The bigger the bloom, the fewer you'll need.
If you want to stretch your floral budget, think big. When they're jumbo-sized flowers like cattleya orchids, you won't need that many to create a full and dramatic look. Add in some well-placed greenery and you'll have a luscious bouquet or centerpiece you can afford.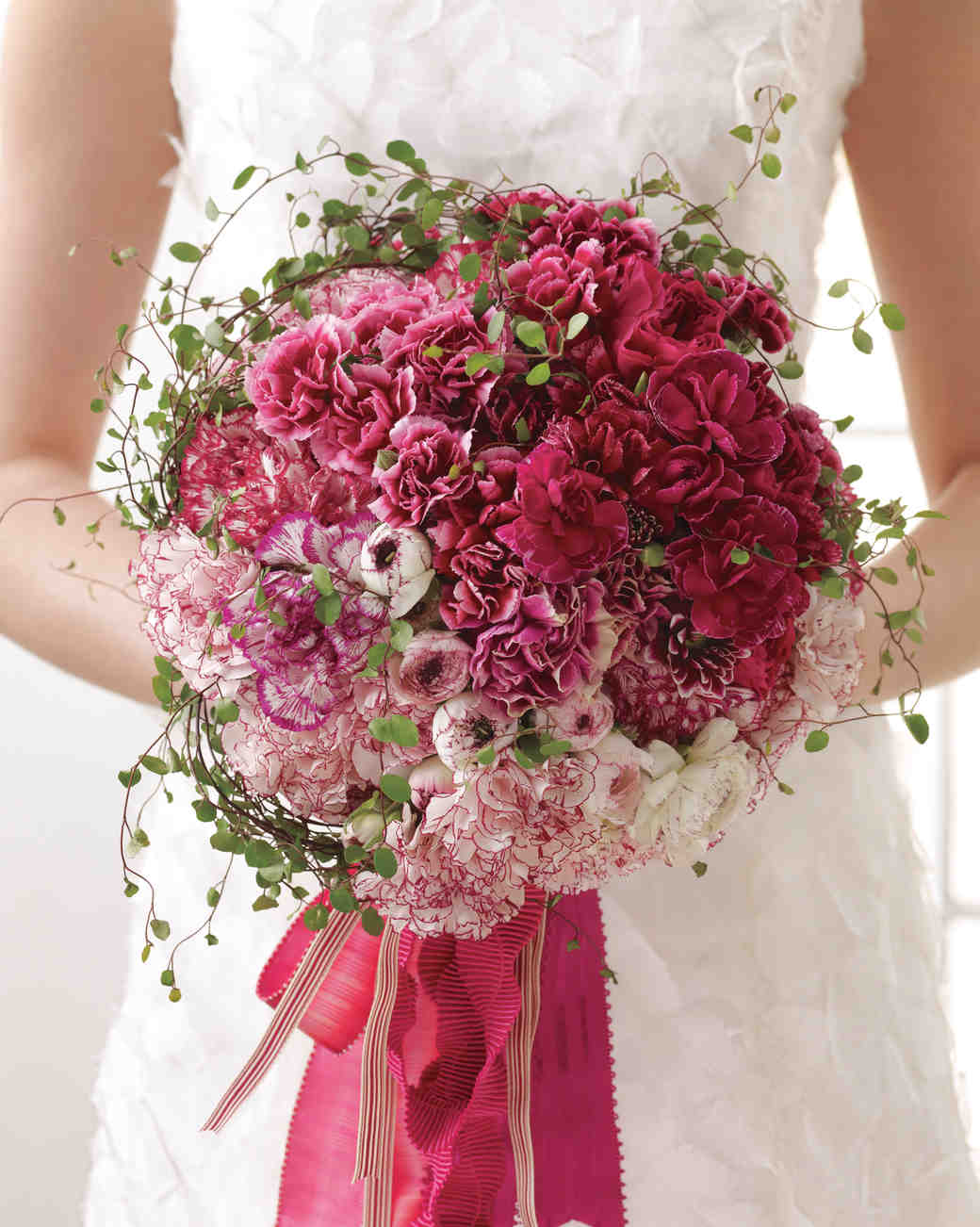 "Carnations in tight bunches are striking and very economical"  – Anastasia Stevenson "The DIY Wedding Planner
Floral inspiration can be found in a variety places, some unexpected.
Floral Design By:
Anastasia Stevenson "The DIY Wedding Planner"
To figure out colors, let everyday objects (a paint chip, ripe fruit) and your favorite things (a colorful scarf, a painting) influence your decision. Go on Pinterest and Instagram (#weddingflowers) to see what other brides have done. Bring photos to your florist of your favorite styles, color palettes and looks.
When you're flexible, the florist is free to create something beautiful.
Rather than give an absolute list of must-have flowers, you'll get a better overall floral design if you give examples of flowers you like, what's appealing about them (maybe it's their soft shape or petite size), the look you're after (rustic) and color scheme (lavender, green and white).

Photography: Glen Allsop / Christian Oth Studio
You can reuse the ceremony flowers.
Think about it—ceremony flowers have a short, look-at-me lifespan. Once the I dos are done, so are the flowers' time in the spotlight. But to prolong their 15 minutes, ask your florist to design them to be repurposed at the reception at the entrance, on the escort card table or any other place you were planning to decorate.