Blue is one of my favorite colors ( Green is my 1st love!) .
Finding that perfect blue flower for your wedding can be tough! Choices are limited but your design options are not! Here are some of my favorite Blue Wedding Designs from some of the most talented vendors in the World of Wedding- I hope they inspire you as well!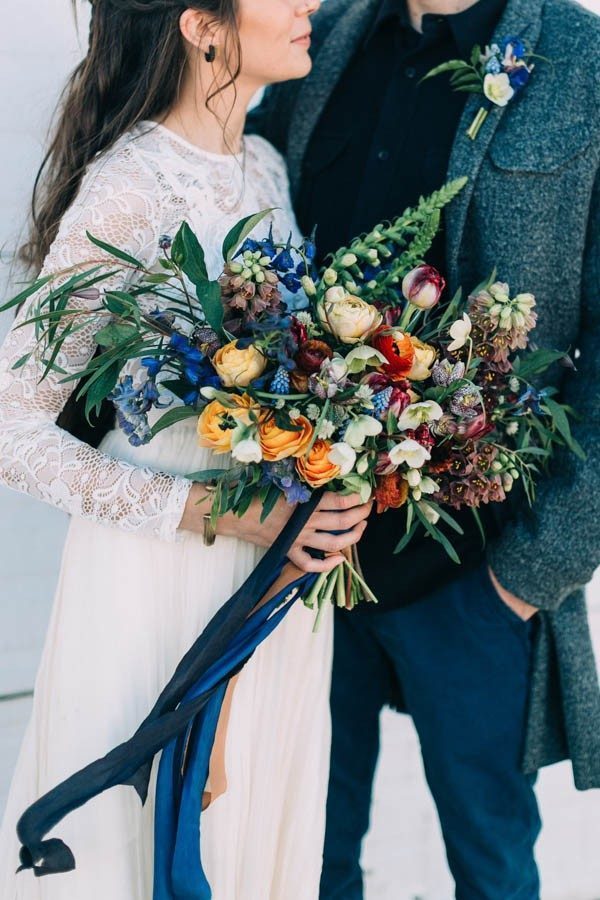 photo by Emily Delamater Photography, bouquet  Field Floral Studio Junebug Weddings
@mondofloraldesigns @callib.photography   on STRICTLY WEDDINGS
This is Blue done Extremely well- and of course, the bride is a professional Florist! So much pretty here…
FROM THE BRIDE:
THE FLOWERS | I've been a florist for 12 years now and own Violets Florist in Lowestoft so it was important to me that the flowers be different from all the wedding flowers I've done in the past. I had Thistles, Hydrangeas, Peonies, Delphinium, Nigella, Astrantia and Freesias in a tight compact hand tied design, with my bridesmaid having similar but with more white. My flower girl had a tiny version of my bouquet to walk down the aisle with, but she also wanted to throw petals too so we she walked in front of us after the ceremony and throw petals. The button holes were little boutonnieres with magnetic backs. Hydrangeas and tulle were wrapped around the chairs that lined the aisle. The flowers on the tables were hand tied bouquets in giant bake bean tins (my mums a school cook so saved them for me) I love coming up with new ideas so this was a first for me. I closed the shop the day before and me and my staff all went to work on making all the flower arrangements.
Blue Flowers Guide: